To start with I'm currently in a full on battle with a silly cold that started just this past weekend. I'm actually quite surprised how much it has affected me and the only thing I have energy to do is lay on the couch or bed as I cough, sneeze and blow my nose constantly. Plus being slightly drugged up from some medication is making these past few days slightly pathetic. But enough with this self pity, I am confident I'll be back to work by tomorrow and ready to take on my final week of school with full force!
One a much happier note I'm so honor to be named "
Blogger of the Week
" over at
Gentri Lee's
blog. I've been following her blog for a bit now so I was thrilled when she asked me if I would be up for doing a little write up and being featured on her blog. You MUST go over and see her blog.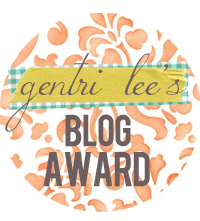 Hope you all are having a healthy and wonderful start to your week!